Your graduation ceremony is coming up soon and you have no clue what convocation attire to wear. What do you do? While the traditional cap and robes for convocation form your uniform for the ceremony, you need clothing underneath that can take you from ceremony to celebration.
Here are just a few tips to keep in mind that will help you pick out the most appropriate outfit to wear under your graduation gown:
Wear An Appropriate Top, Because of It Will Show
Graduation gowns are cut low enough in the front to show a shirt or top, even when you wear a hood — the colored sash that is worn around the neck and over the shoulders. Here are the best tops for each person to wear:
Men – The best choice is a collared dress shirt and ties to showcase a professional and tidy appearance.
Women – The best choice is a scoop-neck top with a modest cut or a collared blouse.
Pick Out The Right Bottoms
Women are best wearing either dress pants or a shorter skirt underneath the gown, while men should choose khakis or dark-colored dress pants.
Avoid brightly coloured bottoms if you choose to wear dress pants or a longer skirt, as they can be seen below the hem of the gown and stick to darker colours. For pants and skirts that are shorter in length and can't be seen, a bright colour is acceptable.
Skirts should be relatively narrow — no wider than an A-line style – as puffy skirts can add volume to an already voluminous gown.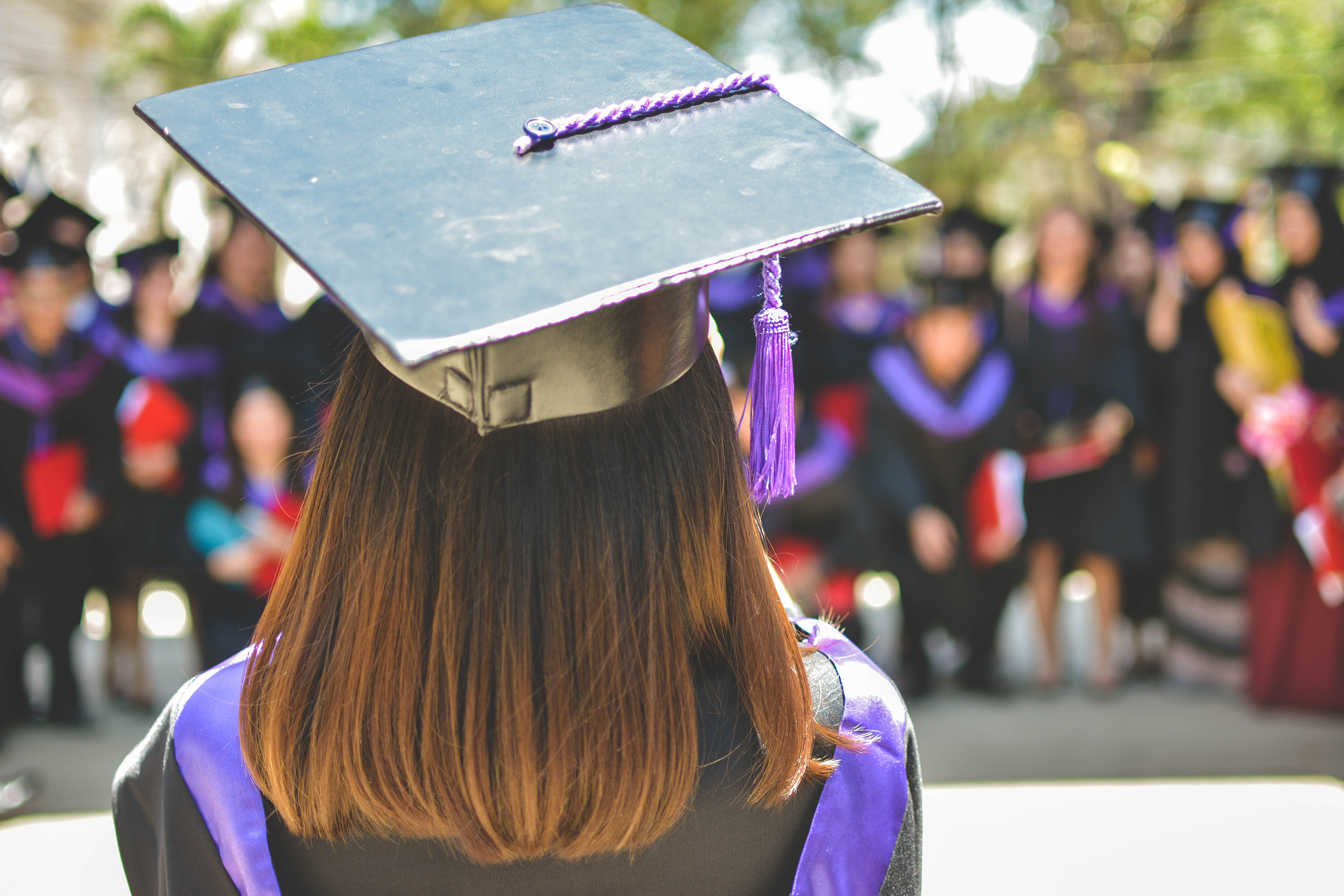 Dress For The Weather
Robes for convocation are quite thick and mixed with high temperatures and humidity can cause you to overheat under the long gown. Dress lightly so you do not end up sweating uncomfortably through the ceremony.
In the case of rain, choose footwear that is dressy but that can withstand a little bit of moisture — no rain boots allowed. Both men and women should wear closed-toe dress shoes to the graduation ceremony, not sandals or athletic shoes.
Whether your ceremony is indoors or outdoors, you should always bring a change of shoes, just in case your first pair ends up being uncomfortable later, isn't whether or ceremony appropriate, etc.
Women should not feel pressured to wear heels and should keep in mind the amount of standing and walking they will need to do. Tall heels should be avoided, and women should instead opt for medium-height heels or flats.
Harcourts: Providing High-Quality Graduation Robes For Convocation
Will you be graduating soon and have no clue what convocation attire you plan to wear? It's important when choosing the right graduation robes for convocation that you go with the experts. Harcourts is the oldest robemaker in North America and only uses materials of the highest quality to produce convocation attire that is long-lasting and elegant. Contact us today to receive a quote.