Clergy robes come with lots of choice and options. So, how do you find the perfect robes and clerical attire that will help you be successful in your important role? For starters, it helps to understand what all your options are so that you can decide what robes will work best for you.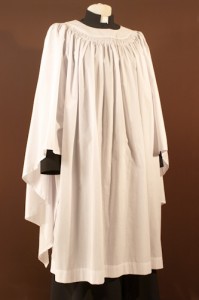 If this is your first time ordering minister attire, or even if you're simply looking for an upgrade, make a list of all the features that you'd like to have in your clergy robes and other attire. That way, when you're speaking to suppliers of clergy robes in Ontario, you'll quickly be able to assess whether they're the right fit for your needs or not.
Questions To Ask When Sourcing Clergy Robes
Harcourts is proud to be a long standing supplier of clergy robes in Ontario and across Canada for more than a hundred and seventy five years. Our expert tailors can create made to measure robes designed to suit your needs. As mentioned, in order to truly get minister attire that works for you, be sure to ask the right questions. We've compiled a helpful list of questions to help you get started.
What kind of fabric options are available?
Do you offer clergy robes with different fullness options?
What are the options for cuffs (cuffed sleeves vs. deep cuff)?
What type of sleeve options are available?
What kind of front panel options do you offer – piping and/or velvet?
Do your robes have full pockets or pocket slits?
What sizes can you offer and do you create custom made to measure robes?
What colours can you offer?
Based on what you are looking for, prices for clergy robes and minister attire will vary. However, it's important to understand that while price matters, you want to ensure you find a robe that is high quality and offers a professional look. Additionally, a well-crafted robe will be much more durable and will last for a longer period of time.
Harcourts: The Right Choice For Clergy Robes
Having the right clergy robes is an essential step that allows you to fulfill your important role. Choosing Harcourts as your robe and attire partner means that you'll have a wide variety of styles, sizes, colours, and materials to choose from. We provide custom robes that meet our client's specific needs and offer unparalleled quality and workmanship that gets noticed. Contact us today to receive a quote and to learn more about our custom clergy robes.